The Bible says you can know for sure in this life that you will go to heaven.

• These things have I written unto you that believe on the name of the Son of God; that ye may know that ye have eternal life... (I Jn. 5:13)

Give all your money to a church...
right?
Do the best you can? Keep the 10 Commandments?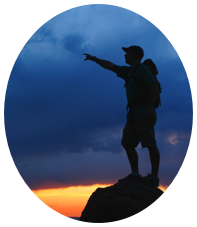 Get baptized? Be very sincere? Obey the golden rule? Be satisfied with yourself? This is the path to heaven right?
Not at all.

Galatians 2:16 says, "Knowing that a man is not justified by the works of the law, but by the faith of Jesus Christ, even we have believed in Jesus Christ, that we might be justified by the faith of Christ, and not by the works of the law: for by the works of the law shall no flesh be justified."

None of us will get to heaven on our own. If there had been a list of rules we could keep to go to heaven, God would have sent the rules instead of His own Son to die for our sins.

The Bible gives the road map in the book of Romans.

1) Admit you are a law-breaker

•For all have sinned, and come short of the glory of God (Rom. 3:23)


•There is none righteous, no, not one. (Rom. 3:10)

No one is good enough to go to heaven on his own merit. No matter what good we do, we still fall short. We try and fail. We promise to be strong and then slip. We reform and then fall away. What's worse, we have intentionally broken God's laws many times. It doesn't require a great deal of honesty to admit that. We favorably compare ourselves to other people who are sinful like ourselves..."I'm better than that guy." But God compares us to Jesus Christ and His word, the Bible. They are the yardsticks or standards we are judged against. God's word is the mirror that won't lie and can't be bought off. It shows us that we are not the people we would like others to think we are. We all fall short. If you and I were in a contest to jump across the Grand Canyon, even if you out-jumped me, you would still fall short–and that would be to your death. We have displeased God greatly. We are law-breakers.

2) Realize you owe an eternal debt for sin

•For the wages of sin is death... (Rom. 6:23)


•Revelation 21:8 - But the fearful, and unbelieving, and the abominable, and murderers, and whoremongers, and sorcerers, and idolaters, and all liars, shall have their part in the lake which burneth with fire and brimstone: which is the second death.

We owe a huge debt for the sins we have committed. It is an eternal debt. Sin has a price tag and there is punishment for wrong. The penalty for our sin is eternal death in a real place of fire called hell. Many people don't want to believe that but God's word declares it with great certainty referring to it directly over fifty times. We are like people who, instead of having surgery, ask the doctor to retouch the x-ray. Denial of hell won't keep me from going there. We need to accept responsibility for our choices and acknowledge that we have broken God's law and do indeed deserve the penalty prescribed for sin.

3) Believe Christ Died for you

•For scarcely for a righteous man will one die: yet peradventure for a good man some would even dare to die. But God commendeth his love toward us, in that, while we were yet sinners, Christ died for us. (Rom. 5:7,8)

I have nothing with which to pay my sin debt. I am spiritually bankrupt. I don't have anything God wants. You say, "I'll work hard and help people and live clean." But even if you started right now and never sinned again and could live perfectly until death, you would still have your past sins to pay for. The Bible says that even my best works are like old rags covered with excrement before God. Imagine trying to pay your mortgage with the gold, white, pink, and blue bills of Monopoly money. My good works are like that to God...counterfeit.

   But here's the GREAT news–God loves you! Jesus Christ, the sinless Son of God, showed His great love when He died on the cross to pay our sin debt and rose from the dead. He loves us in spite of sin and failure, in spite of unbelief and awful mistakes, in spite of blasphemy and wicked choices, in spite of pride and defiance. He died on the cross to pay our sin debt for us–in our place–as our substitute. God the Father will accept his death for our sins because Jesus had no sins of His own to pay for. He gave Himself entirely on our behalf. That's how much He loves us.

4) Trust Christ alone as your saviour now

•...But the gift of God is eternal life through Jesus Christ our Lord. (Rom. 6:23)


•For whosoever shall call upon the name of the Lord shall be saved. (Rom. 10:13)

Everlasting life is a gift purchased by the blood of Jesus and offered freely to those who call upon Him by faith. Put another way, the fact that Jesus died on the cross will not get us to heaven. He offers a gift–it must be received by choice like every other gift you have ever known. Picture Him with His hand extended to you. In His hand is eternal life: forgiveness of all your sins, the price paid in full, your reservation in heaven, a right standing with God.

  Call out to God from your heart by faith, "Dear Lord Jesus, I know I am a sinner. I repent of what I am and turn to you. Please forgive me. I am so sorry for offending you and breaking your laws. I believe you are the Son of God who died and rose again to pay for my sins. Please come into my heart, wash me clean from sin, and save my soul from hell. I'm trusting you, and you alone, to take me to heaven when I die. Amen!"

If you accepted Christ as your Savior, please take time to drop me an email and let me know.